K-Square
History of Kenmore Square
Appendices
1868 Back Bay Street grid fill begins with Arlington, Berkley and Clarendon
1876 Street grid laid out all the way to Western Avenue (present-day Brookline Ave.)
1877 Kenmore footprint first illustrated on a map
1878 Advertisement for proposals for "Back Bay Park", to become "Back Bay Fens"
1878 Beacon Entrace to Back Bay park designed (presently Charlesgate East and West streets)
1879 Notice of intent to Extend Commonwealth Ave. to Beacon Street. "To be designed in an oblique manner" - Boston Globe, 27 May
1880 Construction on Back Bay Fens begins
1880 Olmstead designs the extension of Commonwealth Avenue from Massachusetts avenue to Beacon Street
1880 Kenmore Street is named on Olmstead's map of the Commonwealth Avenue Extension. First mention of the name of this street. Also includes Ipswich and Jersey.
1881 Bay is filled in fas far as present-day Kenmore street. Filling south of Charlesgate, Hereford and west of Fens.
1883 Street Commissioners finished list of street on the Back Bay: Arlington, Berkeley, Clarendon, Dartmouth, Exeter, Falmouth, Gloucester, Hereford, Ipswich and Jersey
1884 First public mention of "Kenmore Street" - Boston Globe, August 5.
1886 Kenmore Street shown on Olmstead's "Study of Plan" for extension of Commonwealth Avenue
1889 Petition to extend Kenmore Street northwardly from Beacon Street (where Raleigh Street is)
1890 Olmstead leaves Boston
1890 Raleigh Street is laid out and filled
1891 Underground electrification of the square begins. The area is referred to as "Three Roads".
1891 Board of Survey proposes the following street names: Raleigh, Deerfield, Sherborn, Granby, Ashby and Chilmark
1895 Kenmore Street was adopted by the city as an official "highway"
(street)
1899 Hotel Buckminster opens
1899 Kilmarnock Street
1899 Hotel Somerset
1900 Landsdowne
1901 Wadsworth Hotel (10 Kenmore Street)
1910 Officially named "Governor Square"
1910 Peerless Motor Car Building
1912 Hotel Charlesview
1912 Fenway Park
1914 Boylston Street Subway (Boston Garden to Governor Square) opened
1915 Braves Field
1916 Kenmore Apartments
1917 Hotel Braemore
1923 Sheraton (Shelton) Apartments
1925 Myles Standish Hotel
1930 Mass transit subway submerged under Kenmore Square
1930 Officially renamed "Kenmore Square"
1930 Cities Service occupies the Peerless Motor Car building and renames it.
1939 White Fuel sign erected
1940 Peerless building renamed to Cities Services building, sign placed on roof
1949 BU purchases Myles Standish
1950 First section of Storrow Drive is opened.
1952 Bridge over the Muddy River connecting the Fens with Storrow Drive is opened
, "Bowker Pass"
1965 Cities Services sign rebuilt with the new CITGO graphic
1966 Grahm Junior College purchases the former hotels Kenmore, Buckminster & Wadsworth and 632 Beacon.
1979 BU purchases the former hotels Kenmore and Wadsworth, transforms it into housing
1979 BU purchases 632 Beacon St.
1984 Kenmore Abbey housing opened
1982 BU begins to purchase properties on the south side of the square, Comm Ave.
1983 BU purchases 660 Beacon St.(Peerless) and converts it into a 6-story bookstore in 1985
1986 Methadone clinic begins operation
1987 BU Purchases 533-541 Commonwealth Ave.<![if !supportFootnotes]>[i]<![endif]>
1987 BU Purchases 508-510 Commonwealth Ave.
1989 BU begins evicition proceedings on Narcissus, Celebration and Lipstick night clubs (533-541)
1992 BU purchases 575 Commonwealth, site of Howard Johnson's. At this point, BU owned 24 separate parcels in and around the square.
1996 Methadone clinic ceases operation
1997 BU purchases Comm ave building housing the Rathskellar and shuts it down in Nov.
2003 Hotel Commonwealth opens (500-528 Commonwealth)<![if !supportFootnotes]>[ii]<![endif]>
2012 BU sells Hotel Commonwealth, but retains land ownership of 500-528 Commonwealth
<![if !vml]>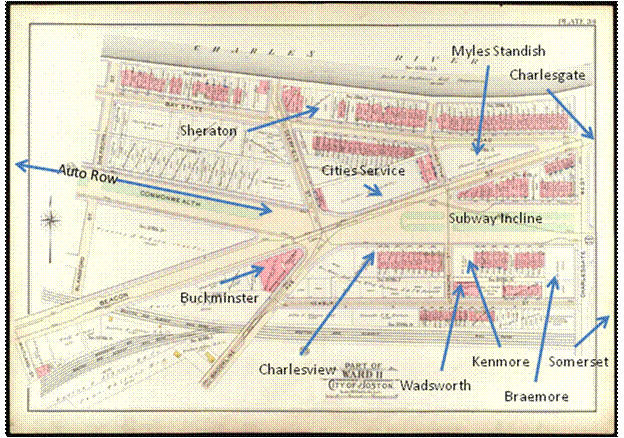 <![endif]>
Figure 42 Locator Map, Based on Boston Ward Map, 1912
From the Massachusetts Historical Society
"This map by Benjamin Dearborn (1754-1838) is a proposal to construct what he called "Perpetual Tide Mills" across the Back Bay and South Bay in Boston. The plan details water and marshland as well as streets and roads of Boston, Roxbury, Brookline, Charlestown, Cambridge, Brighton, and Dorchester. Dearborn's map, which introduces an extensive series of canals, dams, and toll roads, is a variation on a previously proposed Mill Dam project. Creating a Mill Dam and road across the Back Bay came on the heels of the successful Mill Pond project near Boston's North End. <![if !vml]>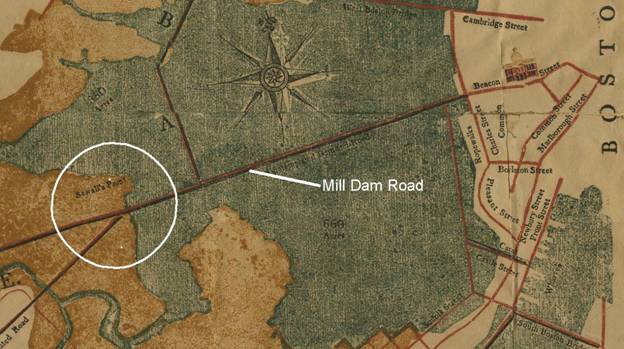 <![endif]>
Figure 43 A Plan of those Parts of Boston and the Towns in its Vicinity: with the Waters and Flats Adjacent 1814, Benjamin Dearborn<![if !supportFootnotes]>[iii]<![endif]>
The aim of the Mill Dam was to use the tides of the Charles River to power mills for industrial purposes. Additionally, the Dam would serve as a toll road. In the end, Dearborn's plan was not realized and a much simpler Mill Dam was built by 1821. Eventually, this project failed in part because of sewage and wastewater build-up in the tidal basins. This build-up caused unpleasant smells that drifted all over the city. As a result, in May 1855, the Back Bay began to be filled in and developed. "<![if !supportFootnotes]>[iv]<![endif]>
<![if !vml]>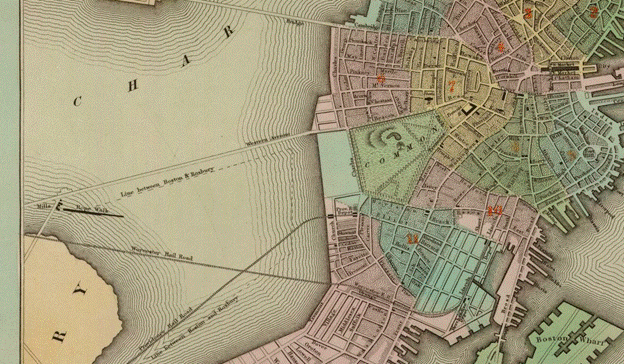 <![endif]>
Figure 44 Boston, 1838, the Mill Dam, now Called Western Avenue<![if !supportFootnotes]>[v]<![endif]>
<![if !vml]>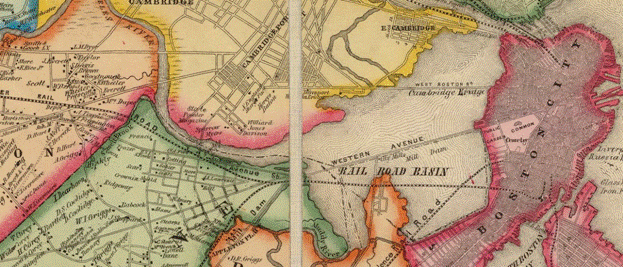 <![endif]>
Figure 45 Boston, 1852 Back Bay, Then called "Rail Road Basin", with traversing railroad lines<![if !supportFootnotes]>[vi]<![endif]>
<![if !vml]>

<![endif]>
Figure 46 City plan to fill in Bay - Dotted lines are proposed. 1874<![if !supportFootnotes]>[vii]<![endif]>
<![if !vml]>
<![endif]>
Figure 47 1895, David Ramsey Collection – Boston, Established streets and roads <![if !supportFootnotes]>[viii]<![endif]>