Awards & Notables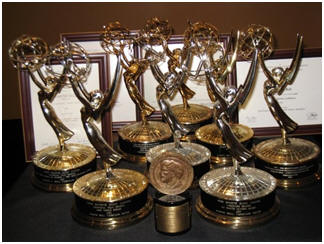 Awarded to Mr. Martin Bell
Emmy Award
Chip Adams '75
Martin Bell '75 (15 awards)
Jimmy Clark, '77
Dr. Barry Cronin (Dean of Students)
Micki Dickoff (Faculty) "Too Little, Too Late" documentary
Burt Dubrow '71 (Daytime Emmy, 2 nominations)
Jeff Israel '72 (3 Emmys)
Alex Paen (1 award, 2 nominations)
Mark Whitman, (3 Daytime Emmys, 35 nominations)
New England Emmy Award
George Foster Peabody Award
Gavin Award

Thomas Tisdall, '79

Humanitas Prize
Micki Dickoff (Faculty) nomination
Humanitas Chicago International Film Festival Golden Hugo Award
Micki Dickoff (Faculty) nomination
AP Award
Jimmy Clark '77
Alex Paen, two awards
Cable Ace-Award
Notable Alumni
Chip Adams '75 Vice President of Venue Engineering, NBC Olympics, Seven Emmy Awards
Martin Bell '75 Tape Editor, ABC-TV 30 years, Freelance Editor, 14 Emmy Awards, George Foster Peabody Award for 9/11
Jon Butcher Rock Musician, freelance multimedia producer
Dr. Barry Cronin, Inventor, Descriptive Video Service, Emmy Award
JP Dellacamera '72 Sportscaster for Atlanta Thrashers (NHL), New York Red Bulls (MLS). Broadcast Women's World Cup game for ABC.
Micki Dickoff Faculty, Writer Director and Producer, Emmy Award, Humanitas Prize nominee
Burt Dubrow '72 Television Executive Producer, Director
Wolfie Fraser '74 Cameraman for NBC and MSNBC In New York City
Paul Fusco '73 Writer/Producer, creator of "ALF" TV Series
Jason Haikara '79 Co-President at Filmaka, Senior VP Marketing at Fox Broadcasting
Jeff Israel '72 Production Operations Analyst at ESPN, three Emmy Awards
Andy Kaufman '71 Entertainer/comedian
Albert J. McGilvray '72 News director, Talk Radio WRNR, U.S. Navy, WGNT-TV UPN 27, WWPX-TV, WPXW-TV , Mid-Atlantic Network, WAZT
Gary LaPierre News anchor WBZ
Dawn McDowell , Bridget" '72
Tom Meek '79 Writer, producer
Steven Mercurio conductor, composer
Tony Novia '79 Senior Vice President, RYAN SEACREST PRODUCTIONS
Alex Paen '7 KABC-TV, KMPC, Producer, Television Host & Reporter
Joanne Peterson '73 President/CEO Abator Information Services
Dennis H. Shimkoski '67 program director, AFRTS, Wheelus Air Base, Libya
Marc Summers '73 TV Host, TV Producer, Author, [Double Dare, Food Network]
Jim Weinberg '76, DP & owner of North Beach Media Inc.